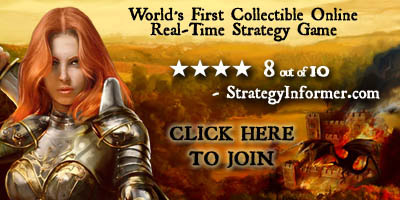 • Vote For Us On Steam Greenlight! •
15 January 2015
Our Steam Greenlight page is finally up! Vote for us now if you want SAGA to be available for Steam.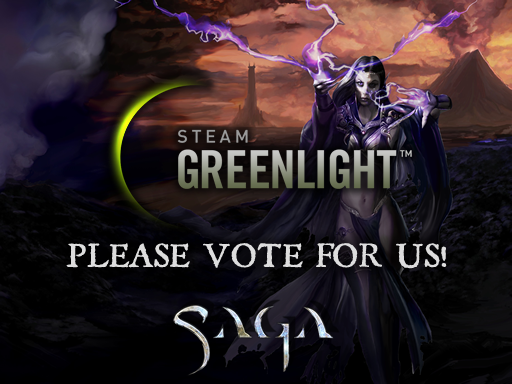 Being on Steam will breathe new life into the game, bringing in new players to trade, quest, and PvP with. Even if you don't use Steam yourself, if you're interested in a bright future for SAGA, please vote for us on our Steam Greenlight page. We can't do this without you!
If you don't know what Steam Greenlight is, they have a FAQ to answer your questions.
---
• Saga Kingdoms Kickstarter •
2 October 2012
The follow-up game to SAGA, Saga Kingdoms, has created a Kickstarter page, where you can help make it a reality by purchasing rewards (including credits!) to show your support. Please visit the Kickstarter page to learn more
.
---
• The Shadow Cabal •
12 March 2012
Arrowstorm Entertainment has partnered with Silverlode Interactive to release a SAGA web series and movie! They have begun production on an action-packed fantasy web series called The Shadow Cabal. Like it on Facebook and follow it on twitter @shadowcabal to get the latest updates. You're going to love this show. Check it out and spread the word! TRAILER COMING SOON! Finally, a SAGA web series.
---
• Silverlode Interactive Announces Open Beta Release of Warspire •
6 October 2011
Silverlode Interactive Announces Open Beta Release of Warspire
Orem, UT, October 6, 2011 – Silverlode Interactive announced today that its new Collectible RTS title, Warspire, will launch its open beta this Tuesday, October 11, 2011.
Beta will launch with two armies available to players – the Light and Undead factions. The game is free-to-play, with additional units available to players for purchase with in-game or real life currency. Once purchased, units become a part of a player's persistent customizable army. Hero units gain experience and levels that carry over between matches.
"We wanted to provide Beta players with an amazing opportunity to get in on the ground floor of Warspire by providing them with some exclusives," says Jason Faller, CEO of Silverlode Interactive. "Those who contribute to the Beta phase will receive two free heroes in their starting army, as well as five dollars in free credits."
For players who can't wait until Tuesday, Alpha signups are still being approved at www.warspire.com.
For the latest news and updates on the game, visit www.PlaySaga.com
---
• October "Like" Event! •
6 October 2011
Hail Lords and Ladies of SAGA! Today we have some exciting news to share! We will be holding an event on Facebook that will lead to a series of giveaways! Well, don't just hold your breath; read below!
Rewards will be given as we reach our goals in getting more "Likes" for SAGA's Facebook page! When each new target number of Likes is reached, a question about the company or the game will be asked on our Wall. All you have to do is reply with the answer and your SAGA nation name to enter the winnings and drawings! Everyone who participates will win something cool! So, tell your friends about SAGA and get the Likes rolling in! Remember to leave your nation name when you answer the questions so we know who you are!
350 Likes - Answer a question to receive a free booster pack.
400 Likes - Answer a question to receive 36 tournament tokens.
500 Likes - Answer a question to receive 1 Hero for a nation of your choice and be entered into a drawing to win a T-shirt of your nation type to wear and show all your friends!
650 Likes - SAGA will have a 25% off booster pack weekend!
The event will last the full month of October and the "25% off booster pack weekend" will be the weekend after the promotion ends if we reach 650 Likes!
The Facebook SAGA page is here:
http://www.facebook.com/pages/SAGA/21544022054
---