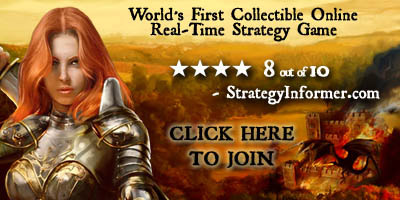 • Patch 1.50.1 is Live •
11 June 2015
CHANGES
- Orc Infantry
- AR: 21 -> 24
- DR: 24 -> 21
- Dwarven Axemen - Dmg: 5-16 -> 7-14
- Swordmaiden
- AR: 22 -> 25
- DR: 25 -> 24
- Damage: 7-13 -> 8-15
- Dark Elf Bowman - AR: 23 -> 24
- Giant Warrior
- AR: 25 -> 27
- Damage: 15-40 -> 20-35
- Stone Giants
- AR: 23 -> 26
- Att/s: 0.3 -> 0.5
- Wood Giants - Att/s: 0.3 -> 0.5
- Giant Spearmen
- AR: 20 -> 22
- Range: 35 -> 40
- Eagle Riders - HP: 850 -> 875
- Lightning Elementals - Range: 20 -> 35
- Covered Ram - AR: 10 -> 14
- Orc Pavises - Morale: 70 -> 80
- Rhyax - Morale: 70 -> 80
- Wight
- AR: 27 -> 26
- Damage: 50-65 -> 45-65
- Black Dragon - Damage: 60-100 -> 65-120
- Poison Mist - Warmup:
- Level 1: 85
- Level 2: 90
- Level 3: 95
- Level 4: 100
- Level 5: 105
- Lightning Bolt - Cast cost:
- Level 1: 85
- Level 2: 95
- Level 3: 105
- Level 4: 115
- Level 5: 130
- Level 6: 140
- Level 7: 150
- Level 8: 160
- Level 9: 170
- Level 10: 185
FIXES
- Correctly calculate sell price for cards in the Sell tab of the Auction House.
---
• Patch 1.50 Is Live! •
6 June 2015
Finally, the moment everyone's been waiting for these past 4 1/2 years! We're proud to announce that Patch 1.50 is now live!
EXCITING CHANGES
- More troops are available in the buy tab of the market to buy with gold!
- Booster pack prices have been significantly reduced!
- You can now build a single Mana Mine on each safe territory!
- You can now co-op quest, guild, and friend nations of the opposite alliance!
UPDATES
- Increase market trade resource max to 65000.
- Trade expiration time increased from 3 days to 7 days.
- Raid Defenders are no longer limited by your max CP.
- Booster pack names have been renamed to be more clear.
- Booster Pack -> Standard Booster
- Faction Booster Pack -> Faction Booster
- Dragon Booster Pack -> Dragon Booster
- etc...
- Booster boxes have been removed from the store and replaced with 10 and 20 packs of Standard, Rogue, and Faction boosters.
- Card buy and sell cost now based on rarity as well as CP.
FIXES
- Correctly calculate total card count in Card Management window.
- Nation creation name field no longer accepts unicode characters. Unicode characters in nation names is strictly against the Terms of Use.
- Fix crash when pasting unicode characters into non-unicode text field.
- Fixed a bug that wouldn't show hero cards when clicked in the store.
- Auction House and Saga Store cards will now correctly display CP.
---
• Spring Cleaning Sale •
27 March 2015
The Spring Cleaning sale is going on now! Almost all items in the shop have been reduced by over 50%. Login now to see for yourself and get in on this because it's only available for a limited time!
---
• Vote For Us On Steam Greenlight! •
15 January 2015
Our Steam Greenlight page is finally up! Vote for us now if you want SAGA to be available for Steam.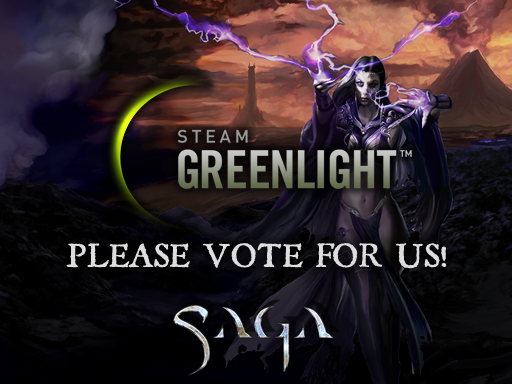 Being on Steam will breathe new life into the game, bringing in new players to trade, quest, and PvP with. Even if you don't use Steam yourself, if you're interested in a bright future for SAGA, please vote for us on our Steam Greenlight page. We can't do this without you!
If you don't know what Steam Greenlight is, they have a FAQ to answer your questions.
---
• The Shadow Cabal •
12 March 2012
Arrowstorm Entertainment has partnered with Silverlode Interactive to release a SAGA web series and movie! They have begun production on an action-packed fantasy web series called The Shadow Cabal. Like it on Facebook and follow it on twitter @shadowcabal to get the latest updates. You're going to love this show. Check it out and spread the word! TRAILER COMING SOON! Finally, a SAGA web series.
---